Year 4 2018 2019
Hello and welcome to the Year 4 page!
Our teaching team consists of Miss Kaschner, Mr Hoffmann and Miss Roberts.
This year our topics are:
Term 1 – Groovy Greeks
Term 2 – Narnia: The Lion, the Witch and the Wardrobe
Term 3 – Revolting Romans
Term 4 – Poetry: A Nest Full of Stars
Term 5 – What's the Deal?
Term 6 – The Firework Maker's Daughter
Year 4 Greek Day October 2018
In Year 4 we have been learning about the Ancient Greeks. To celebrate all the children's hard work this term we had a Greek Day. We started our day reading the myths we wrote in literacy to the Year 2 children. We then learned about the history of the Olympic wreaths and made some using card, carefully decorating each leaf. After break we had a Greek snack in which we tried different types of food that the Ancient Greeks would have eaten. We especially like the olives and hummus but thought the anchovies were a bit smelly! We then made Greek masks which performers used for their theatre performances. In the afternoon we visited Zeus! We asked him for his blessing to host our own Sandown Olympic games. After receiving the 'torch' we began our competitive relay races. Our winners were awarded with special certificated and medals. Thank you to all the children who dressed up. You all looked amazing!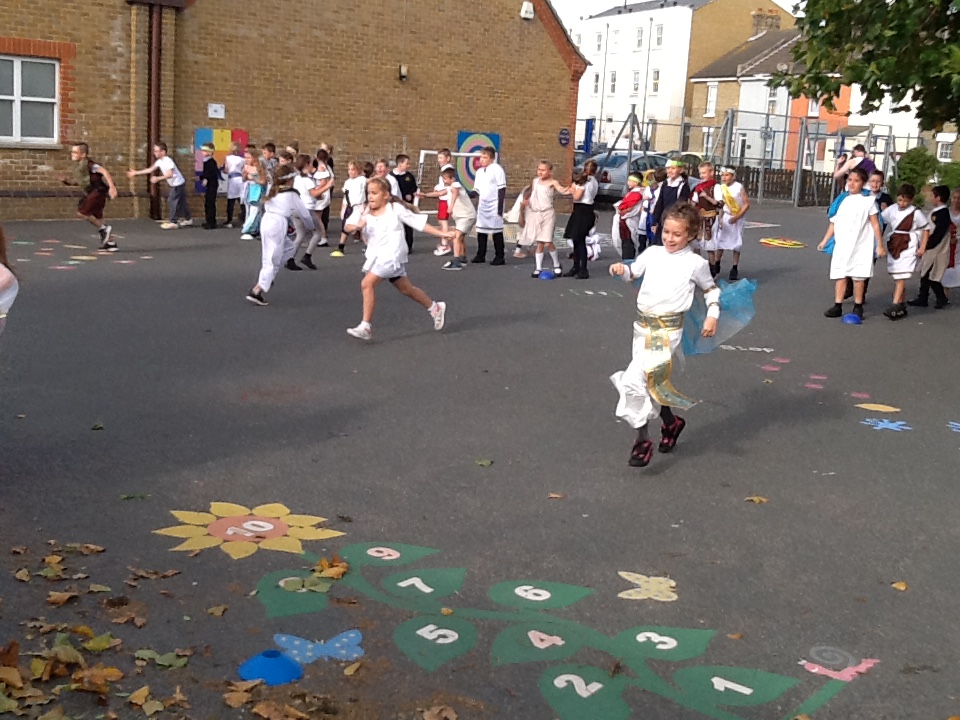 In Term 3 we visited the Canterbury Roman Museum and took part in a range of workshops. We got to dress up as Roman soldiers, fire mini catapults and create our own Roman coin. In the afternoon we became archaeologists, exploring and discussing different artefacts found around Kent from the Roman time period.